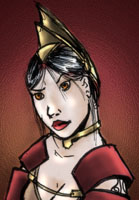 Sheeli (or Ṣeeli) lives in the outer wards of Lower Alankha, far away from the touch of the Societies. Her father came from the southern lands of Cossa, her mother is native to Alankha; as a result, she speaks both Cossan and Alankh quite well and can make a living wage providing interpretation for traders unable to otherwise surmount the language barrier.
Dhaku is a merchant and owner of a curio shop in the district surrounding Aili's Spire. He sometimes hires Sheeli for interpretation work when he needs to bargain with Cossan travelers. Recently his business has been floundering because of minor Societies trying to undercut him and stealing some of his prime suppliers.
Rikara is an enchantress whom Sheeli befriended several years ago. She's a capable magician as well as a streetskimmer enthusiast, her enchanting prowess giving her the ability to modify her own 'skim and her small body mass allowing her to perform stunts that other 'skim pilots find extremely difficult. Sheeli often comes to Rik when she needs to solve an enchanted puzzle or just get something somewhere in a hurry.